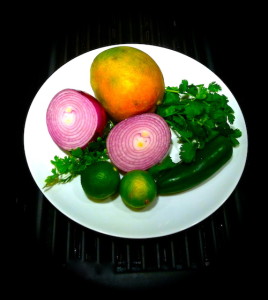 Recent travels to Cabo San Lucas Mexico influenced my taste buds in a big way. The giant buttery avocados and tangy salsas with pungent cilantro I encountered while exploring Los Cabos stayed with me. This last week I found myself craving Mexico, both the beaches and the food. So this week's recipe is another original concocted in my own kitchen. I was inspired to make mango salsa and stuff it into an avocado. It's a simple recipe, all you need to do is chop, mix, and serve.
Start off with one ripe mango. Clean off the peel, then cut the fruit away from the hard seed center. Cut the mango into small squares. Fine chop half of a red onion and a half of a jalapeño pepper. Then take a few sprigs of cilantro and flat leaf parsley. Once washed and dried well, pull the leaves away from the stems. Give them a rough chop then toss in with the cut mango. Squeeze the juice from the limes directly into the bowl with the other ingredients and toss it around. Your mango salsa is now done.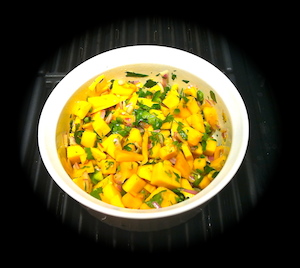 Now take an avocado, cut in half carefully because they can be slippery sometimes. Remove the seed and then use your fingers to separate the peel from the fruit. Scoop the mango salsa into the avocado and it is ready to eat.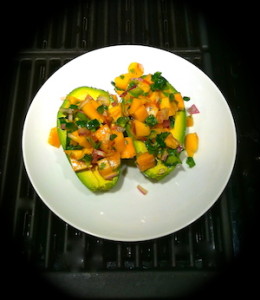 I love Mexico. It is one of my favorite places to travel and is so full of natural beauty, amazing people, and delicious food. For more on Cabo San Lucas, Mexico be sure to catch my article in the April 2014 issue of Z!NK Magazine in the "Vaporization: Travel" section.
Xo
Ingredients:
1 Mango
2 Limes
1/2 Jalapeño Pepper
1/2 Red Onion
Cilantro
Flat Parsley